Breast Forms
Mastectomy Bras
Accessories
Policies & Resources




Amoena Breast Forms
Amoena Energy Light Universal Average 341
With Comfort Plus Technology

Enjoy the breeze of ENERGY, exclusively from Amoena
The world's only temperature equalizing breast form with air ventilation for a fresh feeling, Amoena Energy breast forms are a luxurious combination of Comfort+ technology and innovative design.

Amoena Energy is a line of revolutionary breast forms that let the body breathe freely. Whether exercising, undergoing treatment or going through menopaus, the patented, three-dimensional technology and innovative features provide excellent ventilation and maximum comfort.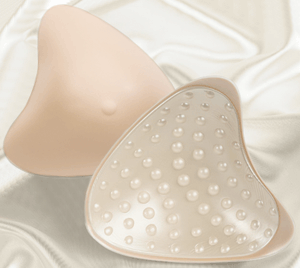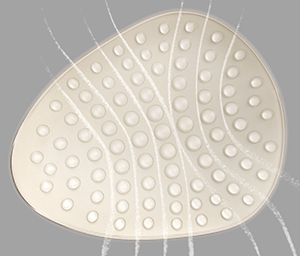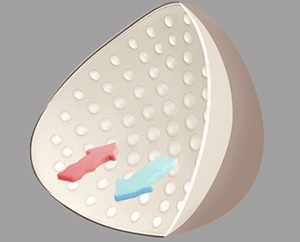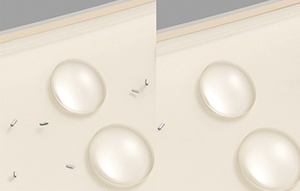 The 2U heart shape features extensions that curve with the shape of the bra pocket and helps fill in the top quadrant of the chest where tissue may be missing.
The three-dimensional pearl surface on the back of the breast form maximizes air flow. The patent-pending 3D construction also minimizes the probability of perspiration by increasing the evaporation rate, which is especially beneficial during exercise, medical treatment or menopausal hot flashes. Amoena Energy breast forms create an ideal body climate that is pleasantly dry all day, every day. Enjoy the airflow!
The universal shape creates maximum versatility for the most natural shape. Amoena Energy breast forms can be worn on either the left or right side and can be rotated for the best possible fit.
Enjoy the comfort! With the unique Comfort+ material, body heat is absorbed or released to maintain the optimal temperature. The Amoena Energy breast form absorbs heat generated from the chest wall and returns warmth when needed, maintaining a perfect and constant balance with the body for maximum comfort. Amoena Energy breast forms are ideal for women who are hot-natured, exercise regularly and have hot flashes due to menopause or hormone therapy. Amoena Energy breast forms also contain 30% more Comfort+ technology than Amoena Contact, Natura, and Individual breast forms with Comfort+.
The silver-infused film on the back of the breast form helps prevent bacteria build-up on the back of the breast form. The allergy-free material keeps a perfect skin-balance, ensuring a healthy, natural freshness.
Maximum air ventilation and evaporation
Let your body breathe:

• During exercise and sports

• In warm climates

• When experiencing hot flushes

Constant freshness and comfort, thanks to antibacterial silver technology
30% more Comfort+ for improved temperature regulation
Light weight silicone (over 30% weight reduction, compared to Amoena's standard breast forms)
| | | |
| --- | --- | --- |
| Feature | Function | Benefit |
| Unique three-dimensional pearl surface on the back of the breast form allows for air to flow freely from behind the form. | Air ventilation | Reduces perspiration and increases evaporation during exercise, medical treament, and menopausal hot flashes. |
| 30% more Comfort+ technology than Amoena Contact, Natura, and Individual breast forms with Comfort+ | Comfort+ adapts to a woman's body temperature by constantly absorbing and releasing heat, equalizing the temperature between the chest wall and the breast form. | Reduces overheating and perspiration behind the breast form to maintain a constant, comfortable temperature all day |
| Lightweight silicone construction with three-dimensional pearls automatically adapts for a close and secure fit | Reduces weight by 30% | May reduce shoulder and neck tension as well as back problems. Ideal for women with lymphedema, osteoporosis, and/or arthritis. |
Amoena's Fitting Chart
Find your bra cup size in the chart to the right
Follow the row horizontally, to find the bra band size
Follow this column veritacally down to the breast for style you are interested in
Please note: this chart is only a guide

Cup Size
Band Size
AA
30
32
34
36
38
40
42
A
30
32
34
36
38
40
42
44
46
B
30
32
34
36
38
40
42
44
46
48
C
32
34
36
38
40
42
44
46
48
50
D
32
34
36
38
40
42
44
46
48
50
52
DD
32
34
36
38
40
42
44
46
48
50
52
DDD
32
34
36
38
40
42
44
46
48
50
52
F
32
34
36
38
40
42
44
46
48
50
G
32
34
36
38
40
42
44
46
48
H
32
34
36
38
40
42
44
46
Name
Style
Fit
Shape
Size Range
Amoena Climate
Climate Light 2A
358
Average
Asymmetrical
0
1
2
3
4
5
6
7
8
9
10
11
12
13
14
Climate Light 2S
458
Shallow
Symmetrical
1
2
3
4
5
6
7
8
9
10
11
12
13
14

---

Amoena Contact
Contact 2A
383
Average
Asymmetrical
0
1
2
3
4
5
6
7
8
9
10
11
12
Contact 2S
381
Average
Symmetrical
1
2
3
4
5
6
7
8
9
10
11
12
Contact Light 2S
380
Average
Symmetrical
1
2
3
4
5
6
7
8
9
10
11
12
13
14
Contact 3E
386
Full
Extra
1
2
3
4
5
6
7
8
9
10
11
12
13
14
Contact Light 3S
385
Full
Symmetrical
0
1
2
3
4
5
6
7
8
9
10

---

Amoena Energy
Energy Light 2U
341
Average
Heart
1
2
3
4
5
6
7
8
9
10
11
12
13
14
Energy Light 3U
340
Full
Extra
1
2
3
4
5
6
7
8
9
10
11
12
13
14

---

Amoena Essential
Essential 1S
630
Shallow
Symmetrical
1
2
3
4
5
6
7
8
9
10
11
12
Essential 2E
474
Average
Extra
0
1
2
3
4
5
6
7
8
9
10
11
12
Essential Light 2S
442
Average
Symmetrical
1
2
3
4
5
6
7
8
9
10
11
12
13
14
15
16
17
Essential Light 3E
556
Full
Extra
1
2
3
4
5
6
7
8
9
10
11
12
13
14
Essential 3S
363
Full
Symmetrical
0
1
2
3
4
5
6
7
8
9
10
11
12

---

Amoena Individual
Individual Light 2S
374
Average
Symmetrical
1
2
3
4
5
6
7
8
9
10
11
12
13
14
Individual Light 3A
373
Full
Asymmetrical
1
2
3
4
5
6
7
8
9
10
11
12
13
14
Individual Light 3S
370
Full
Symmetrical
1
2
3
4
5
6
7
8
9
10

---

Amoena Natura
Natura 1S
396
Shallow
Symmetrical
1
2
3
4
5
6
7
8
9
10
11
12
13
14
Natura Light 2A
392
Average
Asymmetrical
0
1
2
3
4
5
6
7
8
9
10
11
12
13
14
Natura Light 2S
390
Average
Symmetrical
1
2
3
4
5
6
7
8
9
10
11
12
13
14
15
16
17
Natura 3E
397
Full
Extra
1
2
3
4
5
6
7
8
9
10
11
12
13
14
Natura Light 3S
391
Full
Symmetrical
0
1
2
3
4
5
6
7
8
9
10
11
12